MAB helps solve congestion issue in Melbourne's North
Melbourne developer MAB Corporation has announced a commitment to deliver a key 1km stretch of Edgars Road in Epping within its 97-hectare estate, Alliance Business Park by late 2020.
MAB's delivery of Edgars Road will provide an essential north-south link between communities north of O'Herns Road and Cooper Street. With the Local, State and Federal Governments also pledging more than $110 million to upgrade and duplicate O'Herns Road and add a diamond interchange to the Hume Freeway, the combined upgrades will ease congestion by delivering an important additional entry and exit on the Hume Freeway for Melbourne's northern residents and businesses.
Coupled with government upgrades to O'Herns Road, the delivery of the new road is set to solve major congestion issues in Melbourne's rapidly growing northern region.
MAB General Manager Commercial and Industrial, Michael Martin said at present both local residents and businesses can face extensive commuter delays to get onto the Hume Freeway.
"MAB's delivery of Edgars Road will unlock congestion for approximately 45,000 residents in Epping North and hundreds of businesses in the area", he said.
The investment in road infrastructure being delivered for this area will immensely benefit local businesses, providing faster and easier access to the Hume Freeway, giving them a competitive advantage."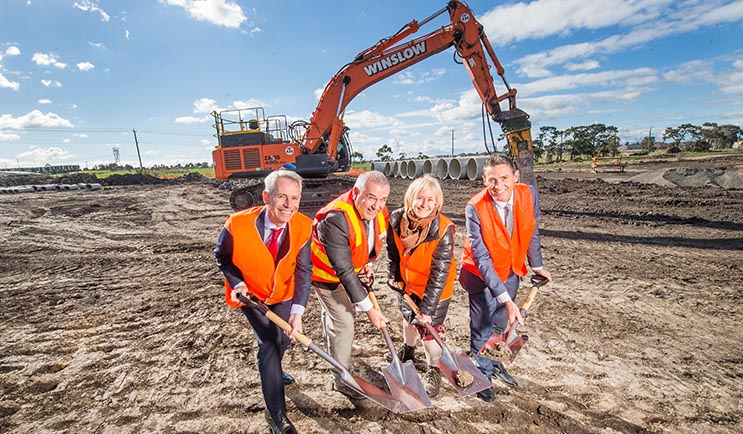 The City of Whittlesea Mayor, Cr Lawrie Cox, said the announcement was welcome news for Whittlesea commuters.
"This is a very exciting announcement because we know traffic congestion is a huge issue in our community. We've been working collaboratively with MAB to successfully deliver this integral road network upgrade. I congratulate MAB on this undertaking."
Victorian Member for Thomastown Bronwyn Halfpenny said this announcement was a key element towards improving liveability and wellbeing for residents.
"MAB's commitment to deliver Edgars Road is an important step towards reducing traffic congestion and increasing road capacity for local commuters and businesses. The delivery of this much-needed infrastructure will reduce travel times and enable better public transport with the benefits to be realised across the entire corridor" she said.
The announcement comes at a time when MAB's Alliance Business Park continues to thrive and land sales results have exceeded expectation. Stages 7 and 8 went to market last year and were sold out within one week of release. Stage 9 was recently released to the market with only limited lots remaining for sale.
"Spanning the last three land releases, we have achieved an average sales rate of $450 per m² with a record high sale rate of $565 per m²," said Mr Martin.
Alliance Business Park is part of MAB's growing development portfolio worth more than $11 billion, including $7.5 billion in the development pipeline. In total MAB has delivered 19 business parks across Victoria totalling 660 hectares.
"Our strategy is focused on identifying landmark industrial sites with exceptional transportation linkages, and in the case of Alliance, delivering these linkages where we can, to benefit our purchasers and the wider community," Mr Martin said.
Alliance Business Park launched in 2012 and has seen major demand from large-scale businesses including logistics giant Mainfreight, which bases its operations out of a 14.5 hectare site in the business park.