MAB Insights Series – Delivery of Merrifield Connect Creates Sustainable Results (Part Two)
In 2016, there were approximately 600 residents in our Merrifield development, and a further 2,000 living in other new estates within in the broader Mickleham / Donnybrook corridor. These new communities had no public transport services available to connect them with the closest metropolitan rail and bus services, which included a V/Line train service at Donnybrook Station.
After many years of consideration, Merrifield joint venture partners MAB Corporation and Gibson Property Corporation decided to take matters into their own hands and deliver a private bus service dedicated to servicing its own community – Merrifield Connect.

Merrifield Connect was a model that sought to mirror day-to-day usage of any standard commuter bus service, providing connections to other key transport modes, including PTV bus services and metro train service in Craigieburn. The experience was simulated on the PTV model with a set peak hour timetable and an access card (similar look to a Myki card) aimed to not only provide a critical transport service to residents, but also demonstrate the need for a public funded service.
It was important to work collaboratively with local and state stakeholders rather than competitively. The intent was not to diminish the importance or role of other parties, but to assist them in the planning and implementation of new programs benefitting the community.
A Positive Reception
Merrifield Connect, as a developer-funded initiative, was a Victorian first when implemented in 2018. The service provided independence to secondary school students, supported workers with their daily commute to the city and brought residents together for stronger social cohesion. New friendships formed within the cosy confines of the 24 seater bus and it helped strengthen residents' sense of place and belonging.
A subsequent Merrifield household survey after the Merrifield Connect launch found fewer transport-related concerns, indicating that Merrifield Connect was having a real and measurable impact in linking residents to broader PTV services available in Craigieburn, but previously unreachable via public transport.
For many Merrifield residents, Merrifield Connect was the piece of the puzzle that enabled them to access work, learning and social opportunities uninhibited.
Merrifield Connect not only helped facilitate and create sustainable travel patterns but it ultimately played an important role in supporting a much larger advocacy campaign for a state funded public bus service.
A Real Outcome
In just under 2 years, with 30,000 user trips taken and close to 400 residents utilising the service, Merrifield Connect quickly demonstrated the 'real' need for public transport services both in Merrifield and Melbourne's northern growth corridor.
During this time, The Hon. Ros Spence, State Member of Parliament for Yuroke, was undertaking significant advocacy work in Parliament regarding the provision of new bus services in the local area. In July 2019, the Victorian State Government announced that an $8.9 million bus route – funded via the Growth Areas Infrastructure Contribution (GAIC) fund – was on its way.
On 22 December 2019, the new 525 public bus route began servicing new communities in the Mickleham / Donnybrook corridor.
The 525 bus route has been one of the most successful new bus routes introduced into a growth area with patronage numbers well beyond what was anticipated. Whilst the catchment for the Route 525 service stretches far beyond Merrifield, the success of Merrifield Connect undeniably developed a strong appetite and realisation amongst key agencies the broader local community that early delivery of a public transport system was viable and within reach.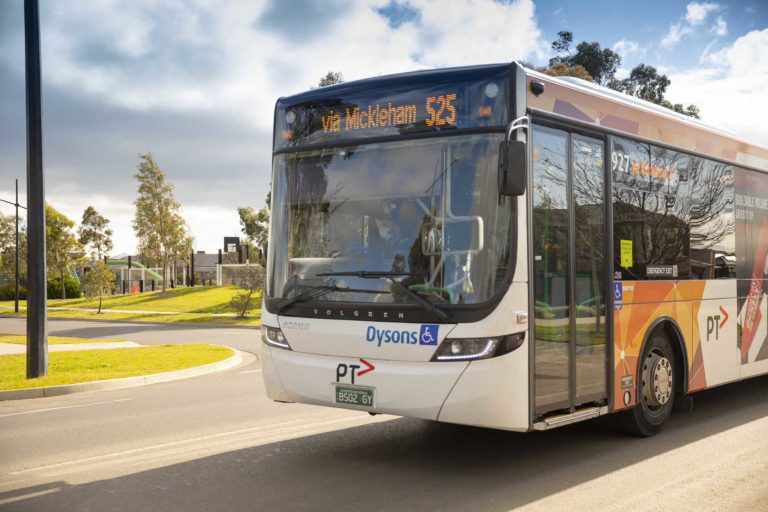 Image: New 525 Public Bus Route
Success Factors
The key factors contributing to the local and broader success of Merrifield Connect:
– Commitment from the developer to provide a real support mechanism to our community;
– A clear vision about what was being undertaken and why;
– Research undertaken as part of a development-wide household survey to understand preferences around times and destinations;
– Heavily subsidising the cost to users, recognising that users were already paying a daily fare for a connecting PTV bus or train services;
– Basing the initiative on the PTV model with a set peak hour timetable and an access card, simulating the experience of a legitimate transport service that could be relied upon and travel planned in advance;
– Accessing the knowledge of bus service providers currently operating in the area provided input into where the greatest level of demand would be in regards to service route, times and efficiencies with connecting service, resulting in a service that fulfilled the needs of residents;
– Collection of weekly data over the two year provided a solid evidence base that there was a very real need for public bus services in the corridor, and confidence that a publicly funded service would be utilised;
– Working closely with the State Member for Parliament to support a broader advocacy campaign for public transport in Melbourne's northern growth corridor.