MAB Partners with Renewal SA to Revitalise Former Brompton Gasworks Site
The redevelopment of the former 5.81-hectare Brompton Gasworks is set to deliver significant economic, social and environmental benefits to South Australia.
Key highlights of the MAB proposal include:
Investment of $459 million in capital expenditure in the site over the life of the project

The highest economic impact of all proponents during both the construction and operational phases

An average of 190 South Australian construction jobs supported per year over the 10-year development cycle with an expected 310 jobs on site during the peak year

A further 730-1000 ongoing jobs once completed.
MAB's market-leading vision will deliver a masterplanned village made up of 207 townhouses, 305 market sale apartments, 120 Nightingale Housing zero-carbon affordable apartments and up to 200 build-to-rent and aged care dwellings, plus a commitment to remediating the site to the highest EPA standards.
The MAB proposal will also see the adaptive reuse, restoration and opening of former gasworks structures including the heritage-listed Retort House, chimney stack, tunnels and Chief St wall as part of a 11,500m2 Heritage Quarter that will feature a 120-room hotel, employment hub and an integrated commercial and retail offering. The result will generate unprecedented levels of entertainment, economic activity and social vibrancy within the Bowden Precinct.
Around 1.5 hectares – or approximately 25% of the total site – will also be transformed into high-quality, publicly accessible open space, with substantial investment committed to public infrastructure including bike paths and walkways, and seamless integration with the existing Bowden Precinct and nearby train and tram stops.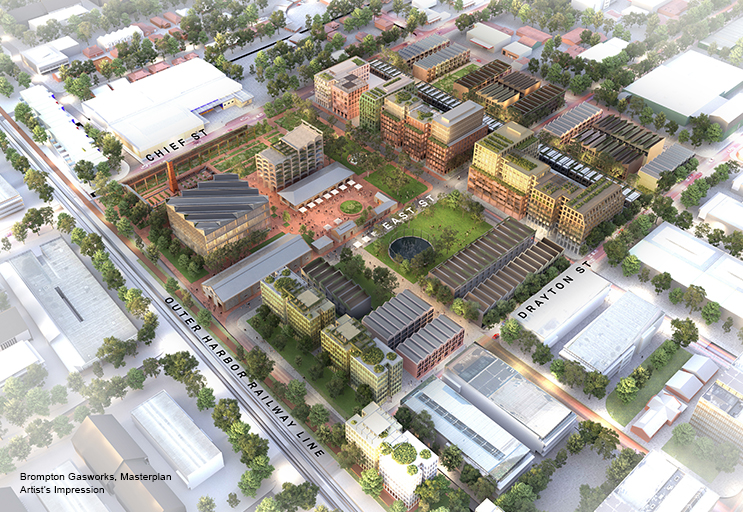 The development achieves a 6 Star Green Star community rating which represents 'World Leadership' in environmentally sustainable practices and, in a South Australian first, all power across the project will be delivered via 100% renewable energy provided through rooftop solar.
MAB Chief Operating Officer David Hall said, "We are very pleased to be selected as the preferred developer for the Brompton Gasworks site and we are committed to providing the best possible outcome for Renewal SA. With over two decades of experience in remediation, urban renewal and commercial development we are excited to form a distinctly South Australian team, bringing international experience in urban renewal design and delivery alongside some of South Australia's most experienced and well credential experts."
"We look forward to the opportunity to partner with Renewal SA and deliver our shared vision to create a vibrant urban village that blends heritage, sustainability and community."
Read the full article at the Renewal SA website here