Owner-occupiers snap up whole office floors for combined $13.2m
Colliers and Knight Frank field strong demand at Richmond's Yarraberg Workspaces
The penthouse suite and level 4 at MAB Corporation's Yarraberg Workspaces project in Richmond have been sold seperately for a combined $13.2 million in the two largest strata office transactions outside of the Melbourne CBD this year and kickstarts the commencement of construction for the project.
Both off-market sales were negotiated by Colliers' Ted Dwyer, Raphael Favas and George Davies in conjunction with Knight Frank's Matthew Romanin and Nick Bisset.
An owner-occupier operating a financial services firm in Melbourne's eastern suburbs has snapped up the 783m2 penthouse floor on Level 5 of the state-of-the-art Yarraberg Workspaces at 43-57 Blazey Street, Richmond. The deal represents a capital rate of $8,159 per m2. Whilst another owner-occupier running a large not-for-profit organisation has purchased level 4 with a total office area of 852m2. The deal represents a capital rate of $8,040 per m2
With two whole floor sales, developer MAB will commence construction  in early 2022 with completion scheduled for mid-2023.
Yarraberg Workspaces is a six-level commercial strata office building with suites ranging from 57m2 up to 1,000m2, currently for sale off-the-plan.
"A shortage of premium strata office opportunities in the City Fringe, coupled with the record low-interest-rate environment, has been the main reason why we are continuing to receive strong levels of interest from Owner Occupiers. Servicing a mortgage has become a much more attractive alternative to renting." Mr Romanin said.
"The project appeals to not only owner occupiers looking for a brand new office in Richmond, but investors as well," Mr Dwyer said.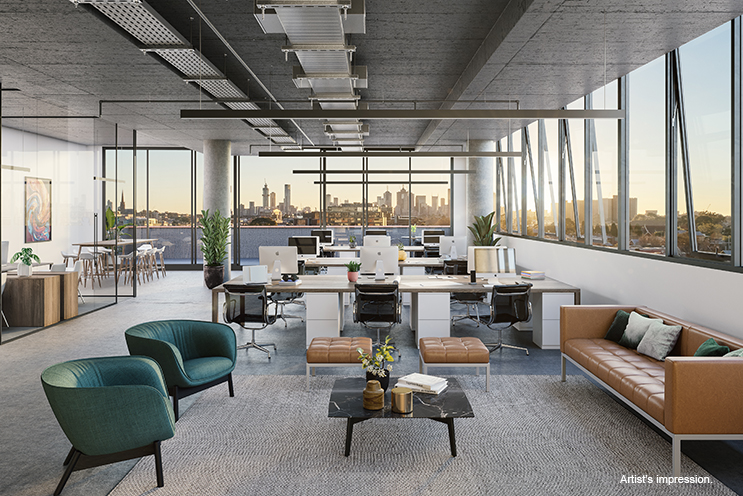 MAB General Manager for Commercial and Industrial, Michael Martin said the appeal of Yarraberg Workspaces is the unique location and design features to suit the changing office environment and needs of workers in a post COVID-19 world.
"MAB has been able to adapt and create an environment that goes beyond the workplace, combining aspects of remote working and re-connecting people back in a safe environement. The building will offer features such as: touchless entry system, openable windows to each workspace, and spacious work areas."
In addition, the building will provide energy efficient lighting , solar power to the common areas, an electric car charging point, onsite water tank andindividually controlled air conditioning systems that will help reduce the environmental footprint of the building.
Club-style end-of-trip facilities will offer a private space to refresh at the start of the day and encourage an active lifestyle, complemented by a café at ground level , secure basement parking and a rooftop terrace with panoramic views of the iconic Yarra river and Melbourne city skyline.
The six-level, $40million-plus project on Blazey Street has been designed by award winning Plus Architecture with landscaping by Tract Consultants and marks over a decade of commercial office development delivered by MAB.
Visit: www.yarraberg.com.au